Many of you may have already read my blog post about using ROOT BEER FLOATS TO
TEACH STATES OF MATTER.  Well, if you liked that, I have another similar demonstration you can do with your students!
Using the same premise, let's make a mock Orange Soda using orange juice and baking soda!
For this demonstration, you will need some orange juice, a clear cup, baking soda, and a spoon.
What you need to to is pour about 2/3 of a cup of orange juice into a clear plastic cup.  I figured that I'd use the kind without any pulp to make it more like Orange Soda.
Next, I mixed in about a teaspoon of baking soda.  Using the spoon (or even a straw), the students can mix it a bit.
After a few seconds, they will notice that the acid in the orange juice (a liquid) reacts with the baking soda (a solid), to create bubbles on top (a gas).  You can have your students predict what the bubbles are made out of, and explain that this carbonation (or carbon dioxide) is similar to the carbonation found in soda.  As you can see it's important to not use more than 2/3 of a cup of orange juice because the carbonation will take up the rest of the space in the glass.
If they'd like, the students can even taste the orange juice.  There will be some foam on top, but once you get passed that, you can definitely tell that this is a carbonated orange drink.  You can even let them use a straw to bypass the layer of foam.  Now, this doesn't taste exactly like Orange Soda since it's not loaded with sugar, but it is very similar!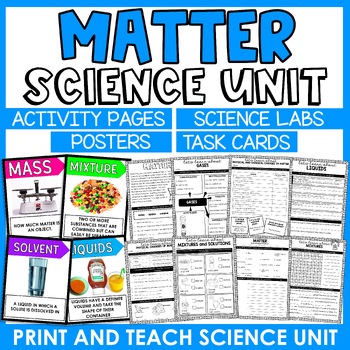 If you are looking for some more activities to enhance your unit on matter, I have Matter Unit Activities that you might want to check out!   It contains 75 pages worth of activities, reading comprehension pages, task cards, posters, and science labs!