Over the past couple of weeks, I have seen those boards that everyone has been pinning on Pinterest for students who do not put their names on their papers. You know, like this from 3rd Grade Thoughts.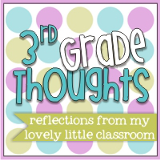 Well, I was thinking of a way to do this in my classroom, but in a different way.  First of all, my class seems pretty small.  The long sides of my classroom is covered with a wall of windows and on the other side, a wall of cabinets.  The back of my room has some bulletin boards, but there is a long desk with 5 computers blocking it from student use.  On 3rd Grade Thoughts, she mentioned making it magnetic and putting it on her board in the front of the room.  I liked this idea, but my board is small and I didn't want something taking up permanent room on it and blocking the view of my projector.  I need something temporary and that doesn't take up much space.
I was walking through the aisles of Hobby Lobby today and got some of those round magnets.  I kept walking up and down the aisles to get some inspiration and found packs of thin wooden shapes.  I figured I could hot glue them to the magnets, paint them, and write No Name on it.  
In this picture you can see the supplies I used, minus the glue gun.  I forgot to put it in the picture.  I have 2 packages of wooden stars (4 per pack), a package of 8 magnets, acrylic paint that I had from a previous project, a paint brush, and a paint pen (which didn't work well so I ended up using a Sharpie).

So here it is!  I'll only put them on the board when needed, and keep them in a little basket near my board where the rest of my magnets lay while not in use.